Buy Pakistani Bridal Dresses,Wedding Dresses,Sherwani Suit, Indian Designer Bridal Wedding Dress Salwar Kameez, Lehenga, Sharara, Gharara, Sherwani in USA, UK, Canada, Australia, Europe, Middle East Saudi Arabia,UAE powered by libasgallery
Contact Info:
+44 20 8144 1510 (UK Customers)
+1 585 638 3311(USA Customers)
+61 (08) 6102 5710(Australia Customers )
Email:
info@libasgallery.com
Elan stunning new bridal collection Palais Indochine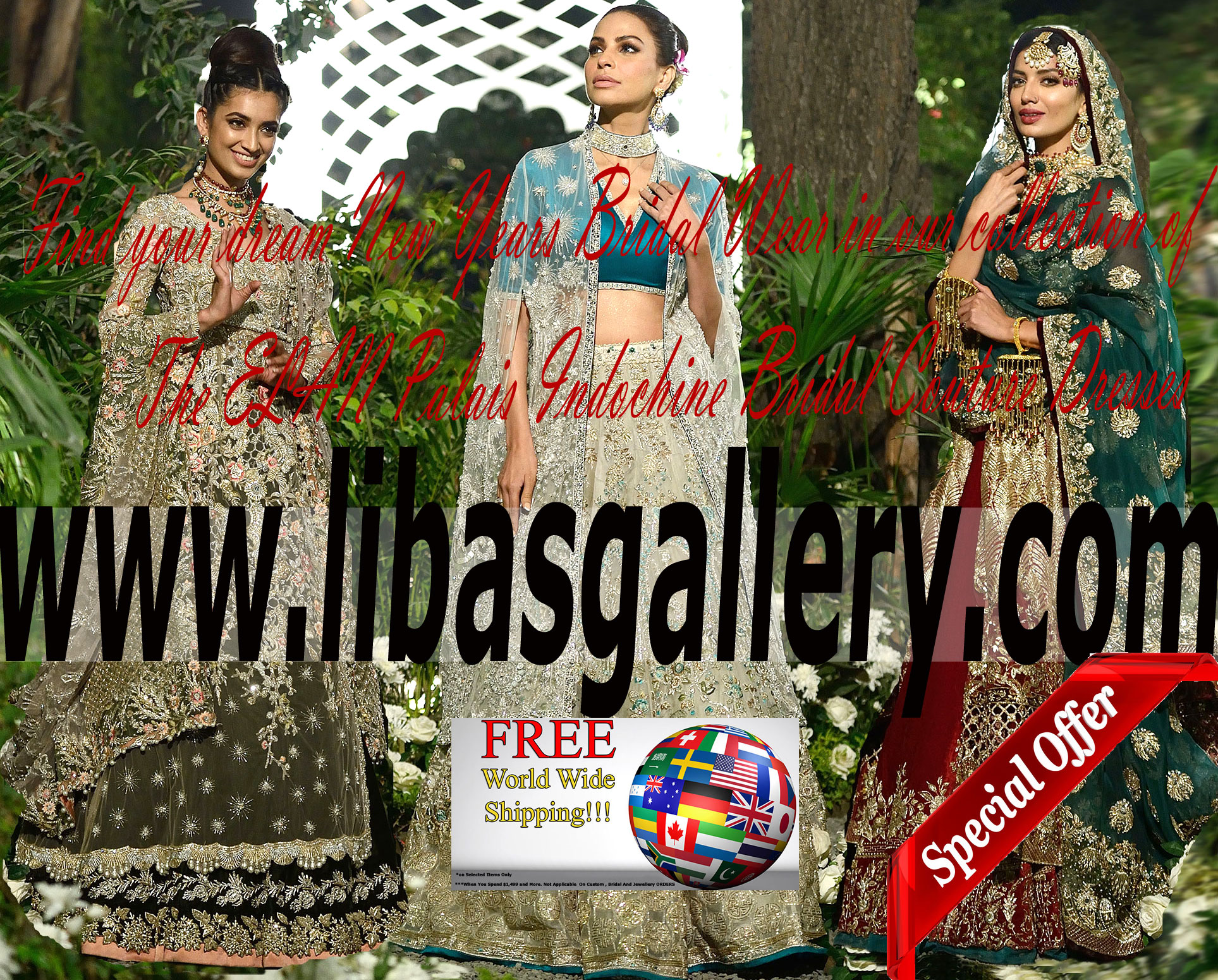 ELAN is a truly glamorous and unique Bridal Couture Palais Indochine 2016 collection that captures the personality of every bride on her wedding day. ELAN Deep jewel tones lend a unique opulence to Couture to develop an assortment of fashionable bridal Styling flared sharara gowns gorgeous puffy lehenga skirt mermaid lehenga skirt ranging from traditional Anarkali angrakha paired with emerald green velvet pants with serpent motifs is wedding goals this season. Velvet is huge this season l! We love the beaded tassel details on this emerald green cape from a bridal look from the Palais Indochine show. Our favourite, Maheen Taseer was radiant on the ramp as one of our special show stoppers at the Palais Indochine show. She carried of this gorgeous pink outfit beautifully! Aimal Khan and Sunita Marshall are wedding goals in this shot from our Palais Indochine show. Hasnain Lehri is impeccable in a sleek black sherwani with a gold brooch paired with screen printed velvet shawl. Some inspiration for all the soon-to-be-grooms out there! Proud for the Palais Indochine show to be labelled as a "game changer" A beautiful ombré nude bridal that is just breathtaking in every sense of the word. Playing with sheer net, and heavy embroidery and embellishment and a subtle colour palette, this for the bride that prefers to stand-out without being ostentatious. This crisp Nehru jacket displayed the delicate motif squarely on the chest, adding just the right dash of panache to a simple yet classic look. This lilac number with gorgeous sleeve detailing, was gorgeously finished with beaded fringe detailing and beautiful lilac-dusty pink dupatta which was mirror embellished in the prettiest of ways. Paired with frilled culottes this outfit was on point in terms of cut,colour an embellishment! This white bridal worked by the beautiful Noorey Bhatti featured handcrafted silver embellishment paired with delicate reshum embroidery. A sight to behold for everyone.Rubab Ali mesmerises in one a heavy bridal look from the Palais Indochine Couture show. The contrast between the pastel coloured shirt and the dark velvet Lehman truly makes the look stand out. Kiran Malik stunned in this gorgeous hybrid sari. New silhouettes with exquisite craftsmanship were at the forefront of the Palais a Indochine Couture show. We love this stunning jhoomar from Sherezad`s Kohar collection exhibiting now at www.libasgallery.com Sherezad`s breathtaking new collection "Kohar" is now being displayed. Whether it`s an engagement, wedding or just something for your trousseau, our stunning Palais Indochine collection has something for everyone. Delving into rich, traditional hues with a modern twist, the Palais Indochine Couture collection is all about mixing colours, and the contemporary with the classic to modern wedding dresses, and couture bridal fashions to more informal wedding designs. ELAN offers today's stylish brides with high quality fabrics, hand-beaded Swarovski crystals, and impeccable fit at an affordable price. We are now taking appointments for bridal orders for our new collection! Visit our Online studio to order our bridal and menswear. Shop Now
(South London Ilford Southall and Green Street Soho Road manchester birmingham) california (san diego sacramento haywar artesia laguna hills Berkeley Newark Sunnyvale Santa Clara Fremont Northridge Diamond Bar Beverly Hills CA) los angeles LA new york florida (orlando miami FL) georgia (decatur sw atlanta liburn ne atlanta norcross GA) illinois (chicago lincolnwood) maryland (Langely Park Woodlawn Rockville Baltimore MD) massachusetts (Boxboro Boston Westford MA) michigan (Wixom Farmington Hills Madison Heights Garden City Oak Park MI) new jersey (Iselin Jersey City Edison Carteret Fairfield NJ) new york (Oak Tree Road Jackson Heights Hicksville Floral Park Elmont Bellerose NY) pennsylvannia (Pittsburgh Philadelphia Warminster PA) texas (Vista Camino San Antonio Dallas Houston Austin Richardson Irving TX) San francisco (Bay Area richmond San Carlos San Mateo Burlingame SF) Washington DC (Bethesda Kensington McLean Springfield Reston Arlington) Missouri (kansas city) Kansas (Manhattan Wichitia) Delaware (newark) Colorado (Denver) Arizona Connecticut Iowa Michigan Minnesota Nevada North Carolina Ohio Oklahoma Portland Richmond Seattle Tennessee Virginia Wisconsin Online Shop, Secure Online Shopping.